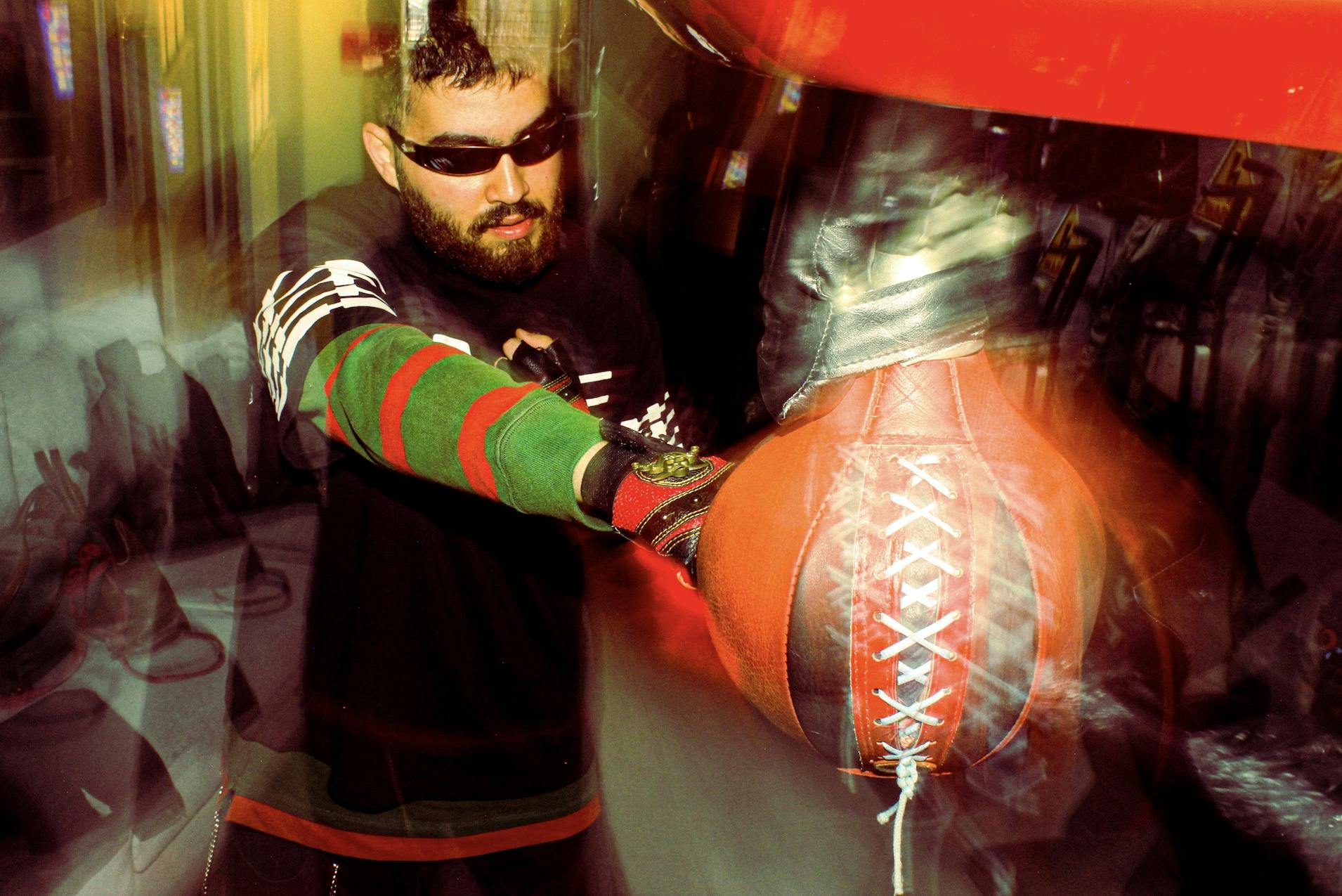 Artist Spotlight Interview ‣ Big Murk
21 Questions with Amman's Big Murk
In conversation with Palestinian Producer Big Murk

The MENA region's underground music scene remains bursting with untapped talent awaiting recognition. Among them is Big Murk, an independent Palestinian-Jordanian producer, drummer, and MC based in Amman. Specializing in UK grime and diverse hip-hop subgenres, his beat-making style is characterized by dynamic drum patterns and calculated basslines that create bounce-worthy and grungy beats.
Big Murk also showcases his talent in production as an active DJ, often performing at MNFA - a prominent underground venue in Amman. His DJ sets effortlessly blend grime, UK left-field bass, jungle, electro, and Gqom, and frequently feature his own productions. He's graced prestigious stages globally, including PTX Athens, Colour Factory London, and Panke Culture Berlin. And if that's not enough credibility, Murk's work has also been featured on respected radio stations such as Rinse FM, Radio Alhara, Noods, and Kiosk Radio.
Collaborating with skilled artists like Muqata'a, Haykal, Fawzi, Synaptik and Marwan Moussa, Big Murk has built an impressive production portfolio. Despite his youth, he's garnered quite the buzz in the region for his versatile sound. His discography spans various influences, ranging from Baile-funk to trip-hop and even jazz-infused tracks like "Na7le." Known for his gritty yet polished beats, powerful basslines, and crisp percussion, Big Murk's unique musical style positions him as an emerging talent to keep a close eye on.
His single "6awafaan" (featuring frequent collaborator - the highly talented - RKNDDN) is my personal favourite, and showcases the uniquely grimey and dysphoric spirit reminiscent of the city in which we both grew up in, and which heavily guides his artistic approach. I tried to capture the same unpolished yet spunky essence in the visual documentation of Murk for this editorial, opting to shoot at a landmark for him and the youth of the city alike - an internet cafe (Dungeon Gaming) in a chaotic yet comfortably sentimental neighbourhood.
*Special shoutout to the Drowned By Locals (a local record label, and the "𝙑𝙤𝙞𝙘𝙚 𝙖𝙣𝙙 𝙛𝙖𝙘𝙚 𝙩𝙤 𝙩𝙝𝙚 𝙢𝙖𝙧𝙜𝙞𝙣𝙖𝙡𝙞𝙨𝙚𝙙 𝙗𝙧𝙪𝙩𝙚𝙨, 𝙢𝙞𝙨𝙛𝙞𝙩𝙨, 𝙨𝙖𝙫𝙖𝙜𝙚𝙨 𝙗𝙪𝙩 𝙩𝙝𝙚 𝙙𝙚𝙡𝙞𝙘𝙖𝙩𝙚 𝙖𝙩 𝙝𝙚𝙖𝙧𝙩.) who provided me with the kickass t-shirt Murk's rocking.*
Styling / Creative Direction: Nada Meshal - @nadamesh
Photography: Baha Suleiman - @dontblamebaha
Assistant: Lara Mufleh - @lalmufleh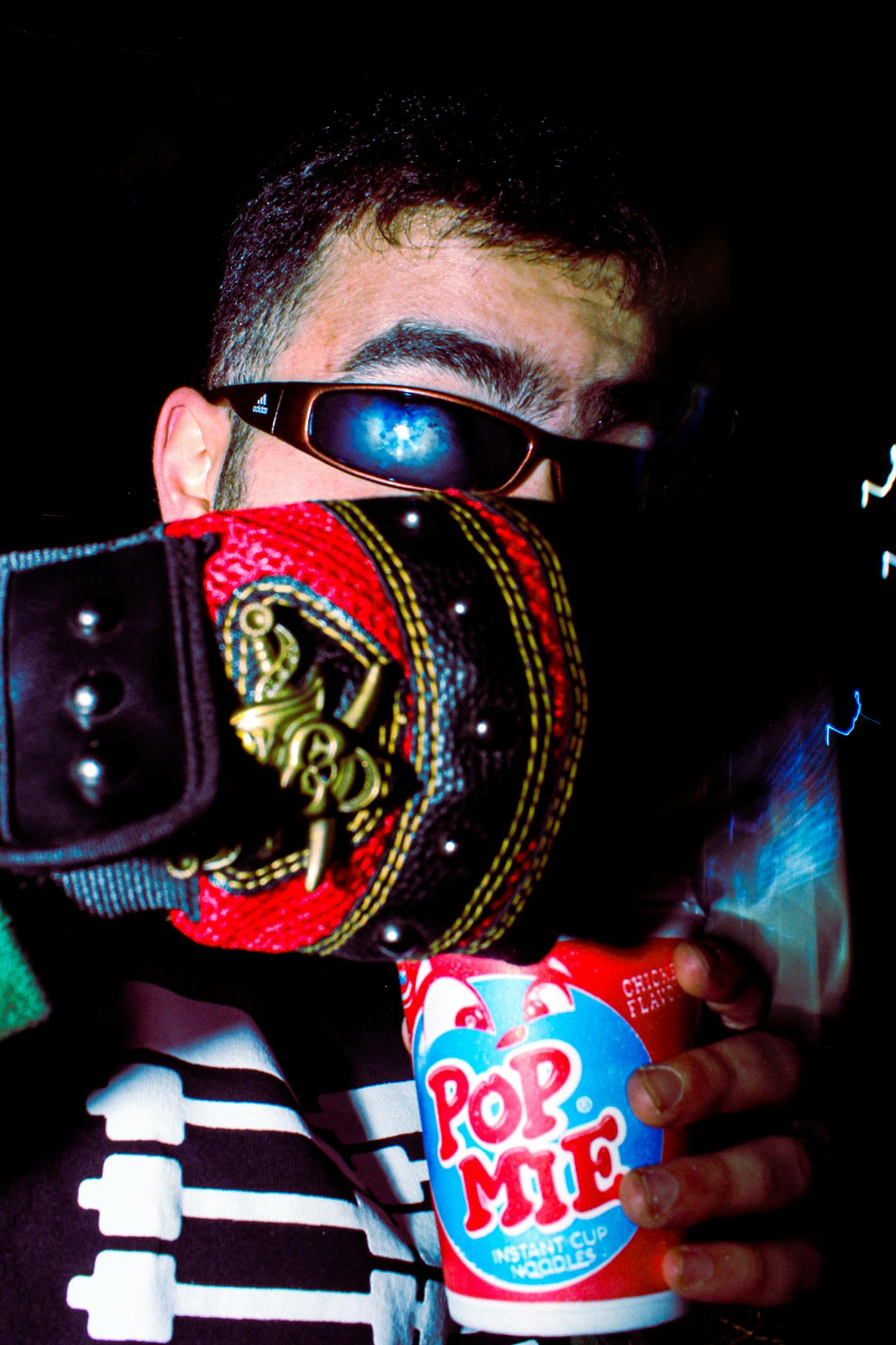 Photo by
What got you into music production? I know you're a really good drummer, so did it start there?
Half Moon
It did kinda start there - I've been playing drums since I was 11, but a couple of years later, I found out about electronic music (I was listening to alot of Skrillex and Aphex Twin), and I remember discovering that you need DJ decks and a mixer to make electronic music. 
I eventually figured out I needed to get some DAW software, and downloaded a very Ipad-esque "music making" app on my laptop. It was one of those where you just select ready-made loops and piece them together. I made a Facebook page and convinced two of my friends to join me and we became a group. We made like four tracks on that app, before getting into FL Studio (<33333!!)
At that point I was starting to create pretty regularly, and I transitioned into purely making trap beats.  I dropped a full length album recorded in my closet with one of my friends as a duo act, before producing three tracks on an EP by grime MC's Saskilla and Ten Dixon. 
Later on I connected with Haykal (A Palestinian artist), he was the first rapper from the regional scene to hop on one of my beats. The track we collaborated on is called "Tisal," and I consider that to be my first proper introduction to the world as a producer. I made that beat when I was about 16.
Big Murk
What's the first piece of gear you remember buying? Tell me if there's a cool story around that.
To this day I work with a mouse and qwerty keyboard. I play better keys on a typing keyboard than a midi controller or sumn like that, I'd love to get some gear ASAP though.
Did you have a mentor who helped you growing up, or someone around you who you particularly looked up to?
When I got into it early, everyone was older than me. A lot of my friends who were musicians or DJs used to warn me about not letting anybody son you or try to claim you under their label/collective cause I was eager to work, and I feel like I kinda overdid it at the time. I ended up not taking no chat from nobody, which was a lil ignorant but saved me from a lot of BS still.
When I was really young though I had a music teacher at school who I learned a lot of musicality and discipline from, she had been teaching and directing the school band for like 25 years. I've never been yelled at so much by one person; she made me a better drummer and musician in general and if it weren't for her, I'd still be drumming/spitting off beat, so shoutout Ms. Johnson.
What/who are the earliest musical influences you can remember?
In middle school I listened to Odd Future a lot, as well as grime legends like D Double E, Skepta, Wiley. I had a super hardcore MF DOOM fan phase in high school, I even got a tattoo of the mask.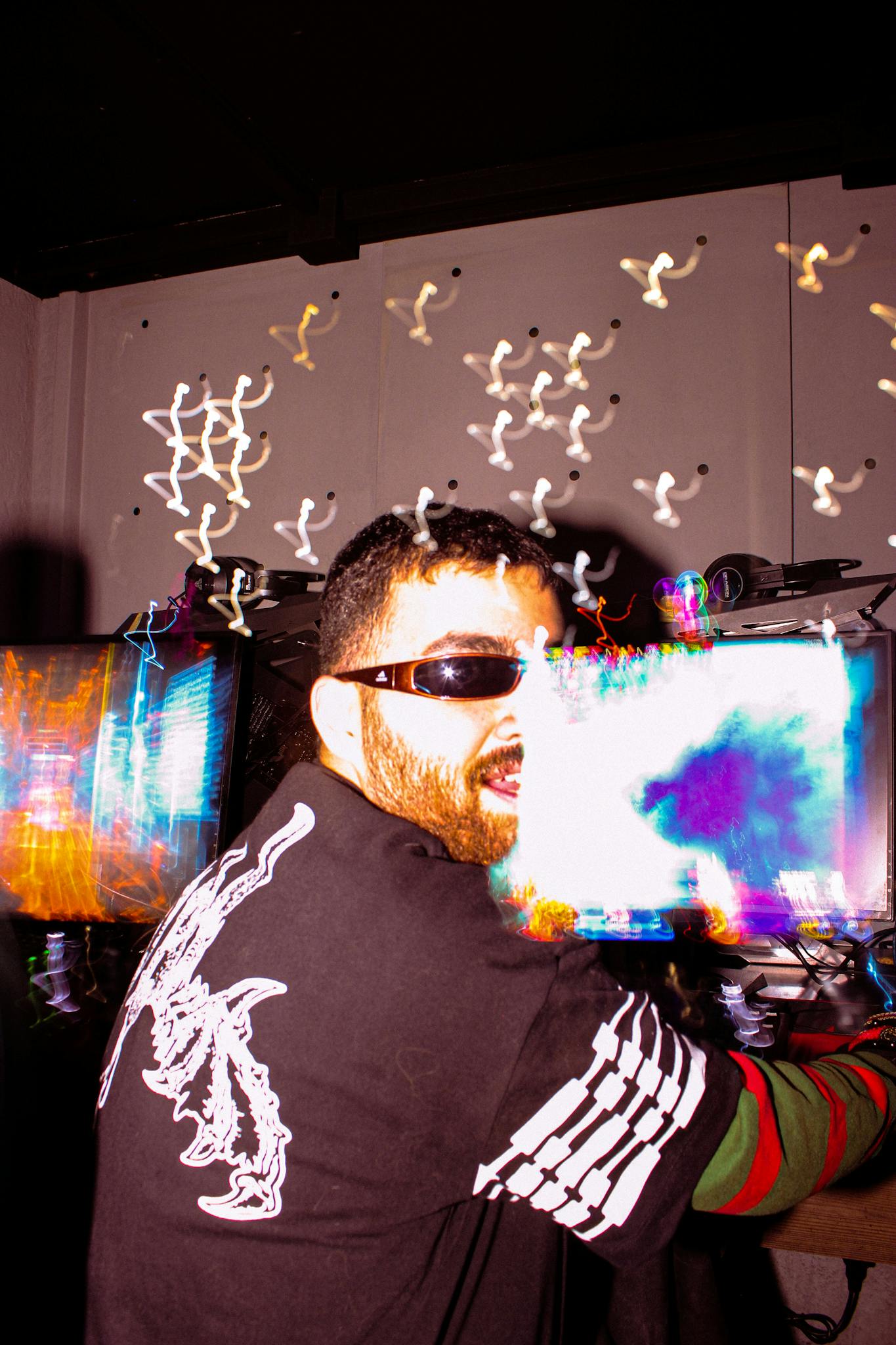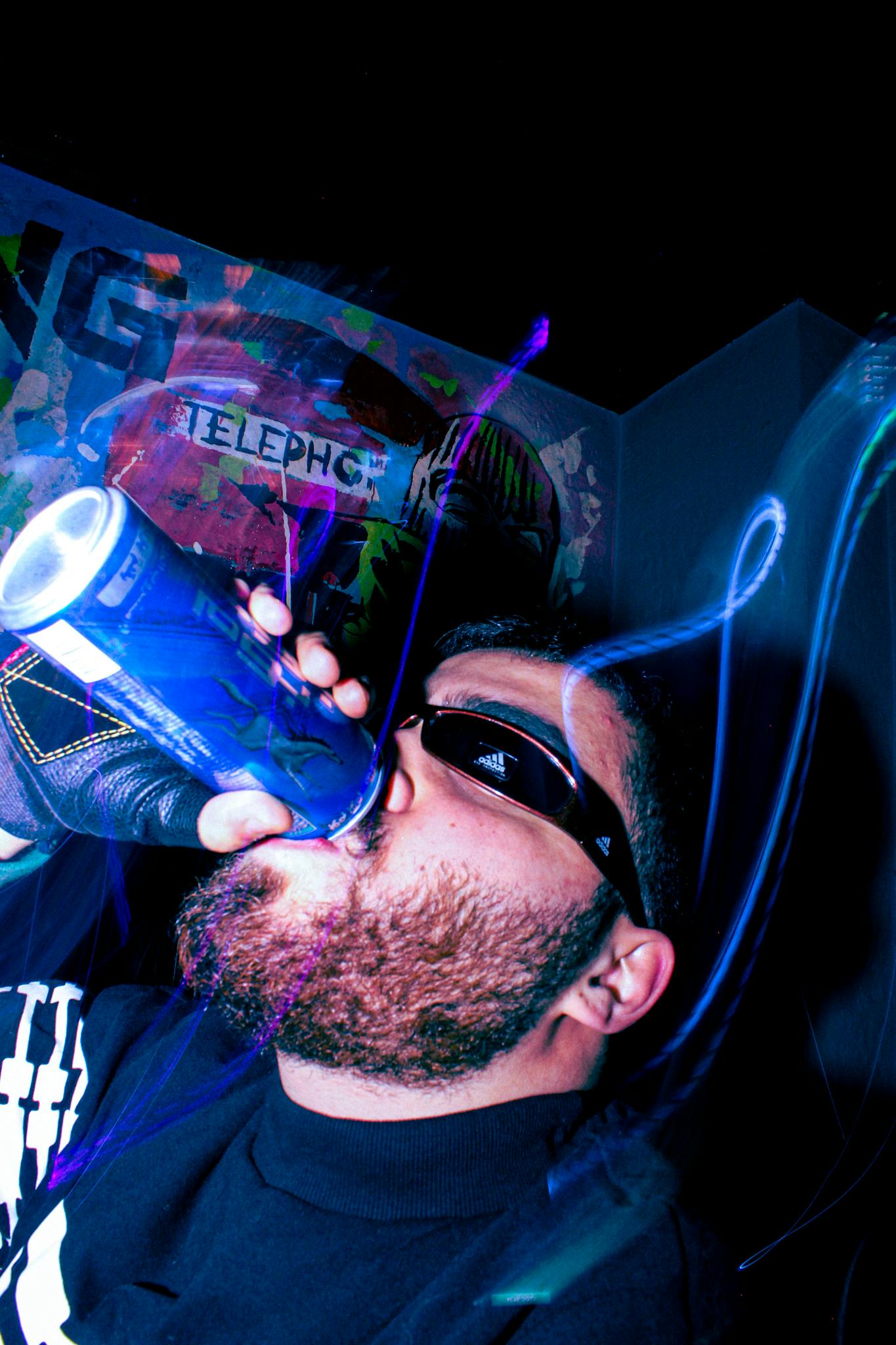 The music scene in Amman is definitely one people in the region have mixed opinions on. How do you think it's influenced your sound/journey as an artist?
The lack of infrastructure for musicians and artists can really be a huge "inspiration-killer" for us, but at the same time because we are only a select few that create this type of music, it's been relatively rewarding because it didn't take long for me to start building a name for myself. I feel like if I lived in a big city where there's a huge number of people doing the same thing, I might have not felt as heard and maybe got discouraged in my earlier stages. It's also dope that we all know each other and collaborate quite often.
I think the relative emptiness of Amman in terms of musicians (not to take away anything from the handful of extremely talented artists we have) has given me and fellow artists alot more freedom cuz there's less to compare to or use as reference. We don't have many pretentious or snobby people, or "art school kids" typa people, so I think that's a good thing. There's less worry about how your sound will fit in or be received - at the cost of a more limited audience of course - but that's fine by me for now.
Also, because of border customs, good gear is really hard to get your hands on; this led me to get comfy with a "no-gear" setup.
What's something you're grateful for in your surroundings growing up, in shaping your creative identity?
I was lucky enough to have my own laptop since I was very young. I was able to develop a distinct taste thanks to endless unmonitored Youtube browsing since I was in 6th grade. I was also extremely lucky to have my own drum set, and go to band practice after school for a good seven years - it gave me enough background knowledge to get into music production without too much of a learning curve. 
My father was the first person to show me Hip-Hop - which was the first genre that I really remember being inspired by. He played a lot of early 2000's R&B as well. I have videos of me in diapers dancing to a Lil' Kim track playing on the TV.  I also remember being obsessed with the track "How We Do" by The Game, rewinding it over and over in his car (he had a bootleg CD full of tracks like that).
Your sound is always being likened to UK grime. What about that style/movement do you relate to?
I was already very obsessed with Rap, then in 2015 I stumbled across a BBK grime set. I was initially drawn to it because of how hype the crowd was, it was fast and high intensity, the beats were so different - so much more bouncy, and it was so satisfying how the DJ was switching between different beats while the MCs were spitting. Every time a new beat came in or the next MC got the mic, it was so satisfying and exciting,  plus hearing a UK accent for a change was kinda refreshing.
What's your creative process like?
I try to make one beat every single day, and at the same time too, around 6-7 pm. Some days I do three in a day and sometimes I don't get on the laptop for weeks. I used to start every beat by digging for a sample first, but in more recent years I've been levelling up my composition skills, after I figured out finger patterns for the laptop keyboard for certain go-to chords. I've been really into emo-type melodies with many layers lately, you'll hear a lot of that on my instrumental album when it drops.
When do you find yourself being your most creative?
I make the hardest beats when I have a ton of work to do and shouldnt be making beats. For some reason feeling like I'm low on time. Like if I have two hours left to study an exam that I never prepared for and I hop on FL, it's over. I make the most fire shit possible.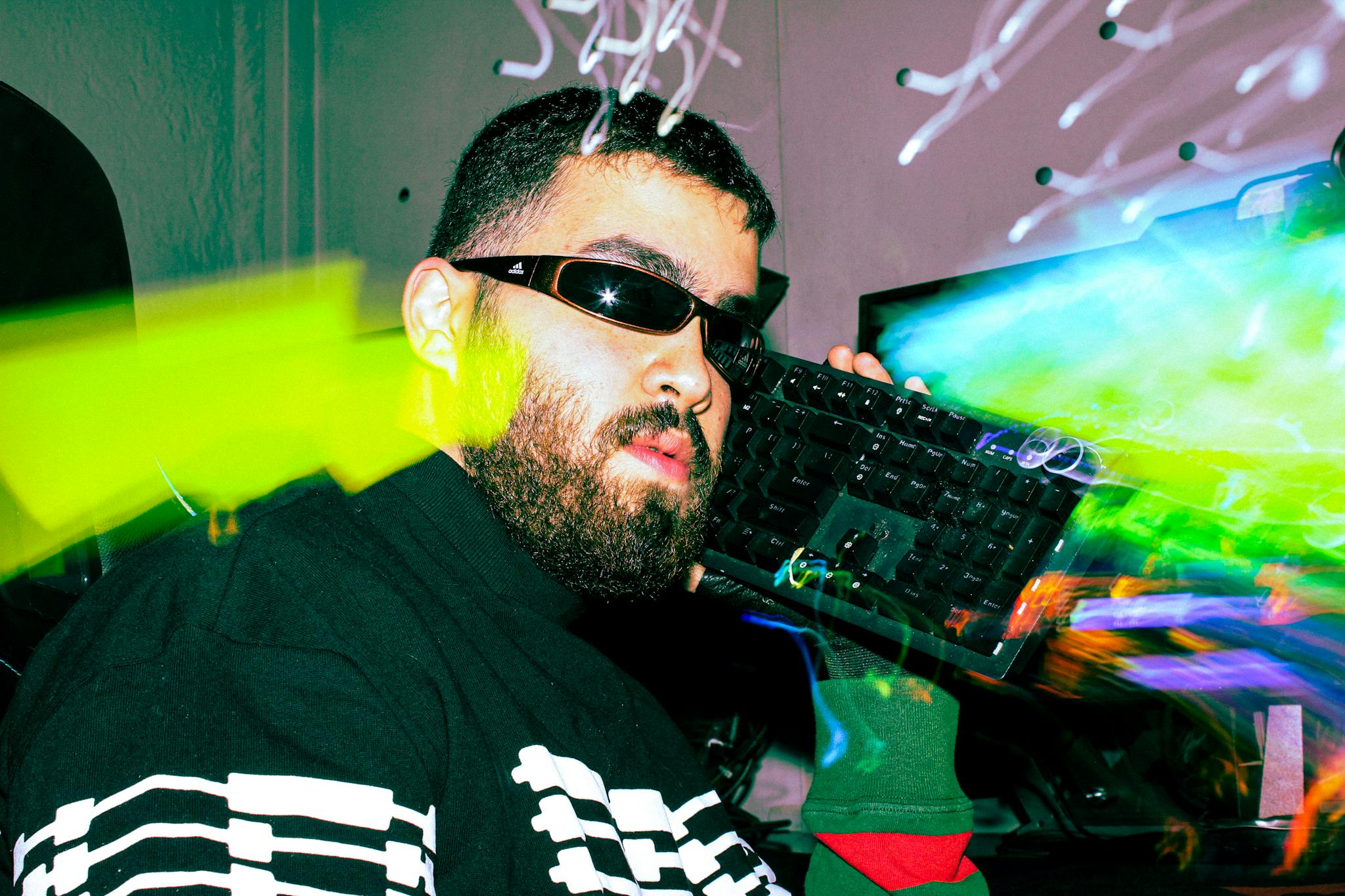 Favourite Artist you've collaborated with and why?
The artist I work with the most frequently is Amman-based rapper RKNDDN - that's my brother. Working with him is easy coz we're very similar in taste and he's one of my closest friends and one of the first people I worked with. Making music with somebody you know is quite different, also nobody spits like him.
Most important thing to having a successful collaboration IYO?
Chemistry between the collaborators as well as honesty, if something is ass you should just say it straight away so you can move on to the next idea.
Favourite track you've ever put out?
"Gasolina," but also "Galab" w/ Haykal, there's a bunch of tracks I'm super proud of but I haven't released yet - a lot of instrumental shit.
Your song "Gasolina," with RKNDDN and DAKN, was the first track which you rapped on, and I remember reading in an interview with SceneNoise that you said you're "not a rapper" and don't plan on releasing any rap tracks soon because the image you wish to portray is more aligned with your career as a music producer and DJ. Can you elaborate on this?
I don't wanna be considered a rapper; I only plan on recording my own vocals once every now and then, because I want it to be more like a special occasion type thing. I do MC over beats live more often lately though, I have a couple verses that ppl know but I rarely ever record them onto tracks and put them out. 
The main reason I say I'm not a rapper is bcoz i dont really have much to say…  out loud. For me i'm just tryna come up with interesting flows and spray for fun, and also being a rapper can be kinda cringe.
What do you think makes you stand out as an artist?
I think I can say I make really hot drum patterns, bounce is everything...
When you create a track, do you usually have visuals in mind too? Like the direction you could take with a video, or even, the other way around - a strong visual scenario you envision that inspires you?
I definitely associate certain sounds to certain colours, but that's pretty much it.
Favourite producers from the MENA region atm, and just in general?
Toumba, Taymour, Al Nather, Julmud, Shbash, 1800s Internet, Ratchopper, and Feddini.
Three most recently listened to songs?
RXKNephew - Today
Jammz - Fi Real
PNGWNG - Fesh Eshi Na2sek
An unexpected artist that you draw inspiration from/fuck with?
An Armenian pianist , Tigran Hamasyan, one of the craziest I've ever heard play the piano, very forward thinking and does serious rhythm tricks.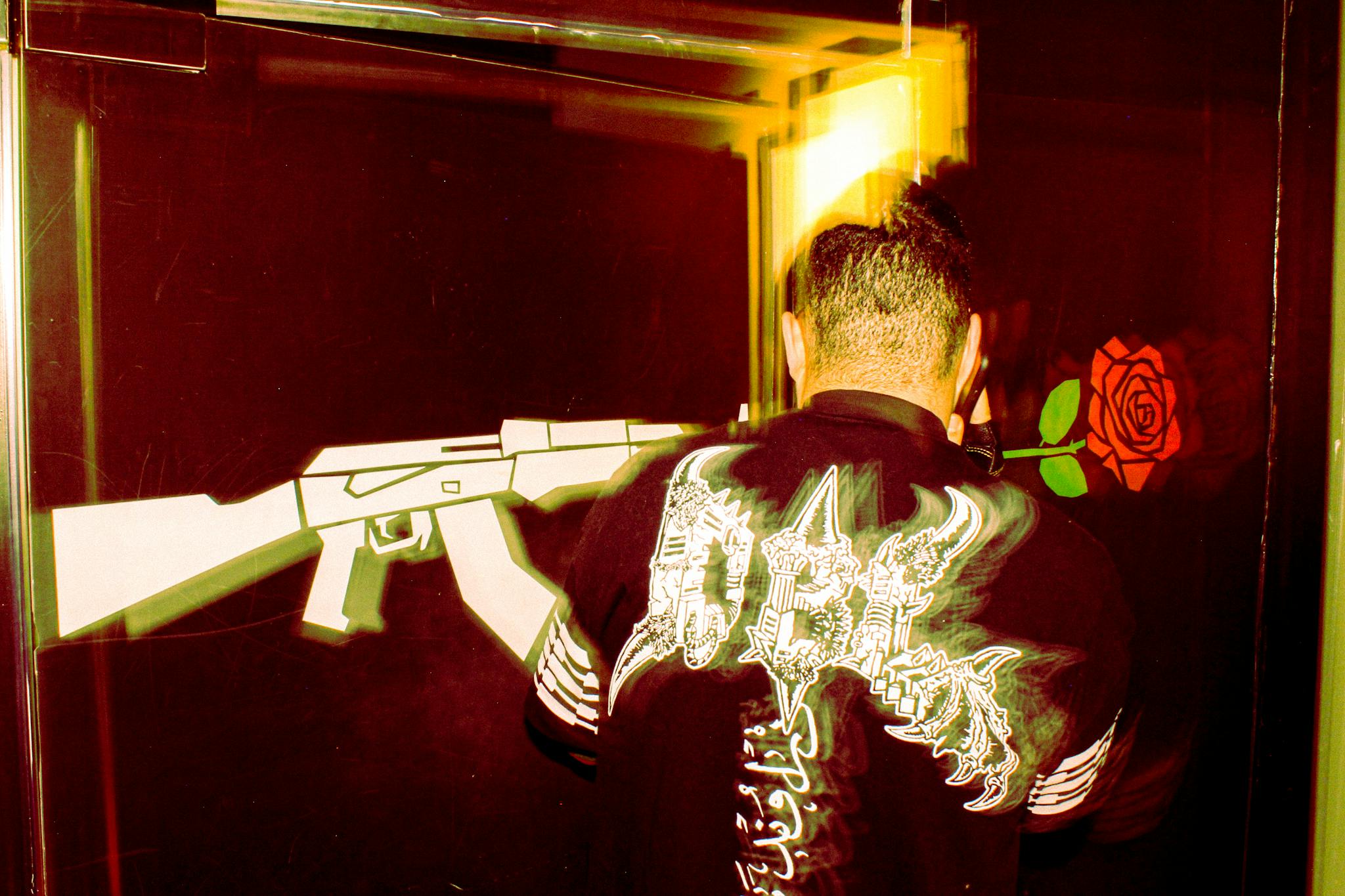 Do you have any random talents?
I'm really good at cooking :)
Most useful piece of advice you've received from someone?
What're you working on atm? And how is it an evolution (or different) from the last track you put out, Gasolina?
I have an EP with RKNDDN, a solo instrumental album, another more clubby solo EP, more tracks w/ Haykal, Abul3ees, Shbash, Mehrak & more, a remix i did for Korea Town Acid & Raf Reza, a handful of features for VA compilation albums and a couple tracks here and there that I'd rather keep secret for now.