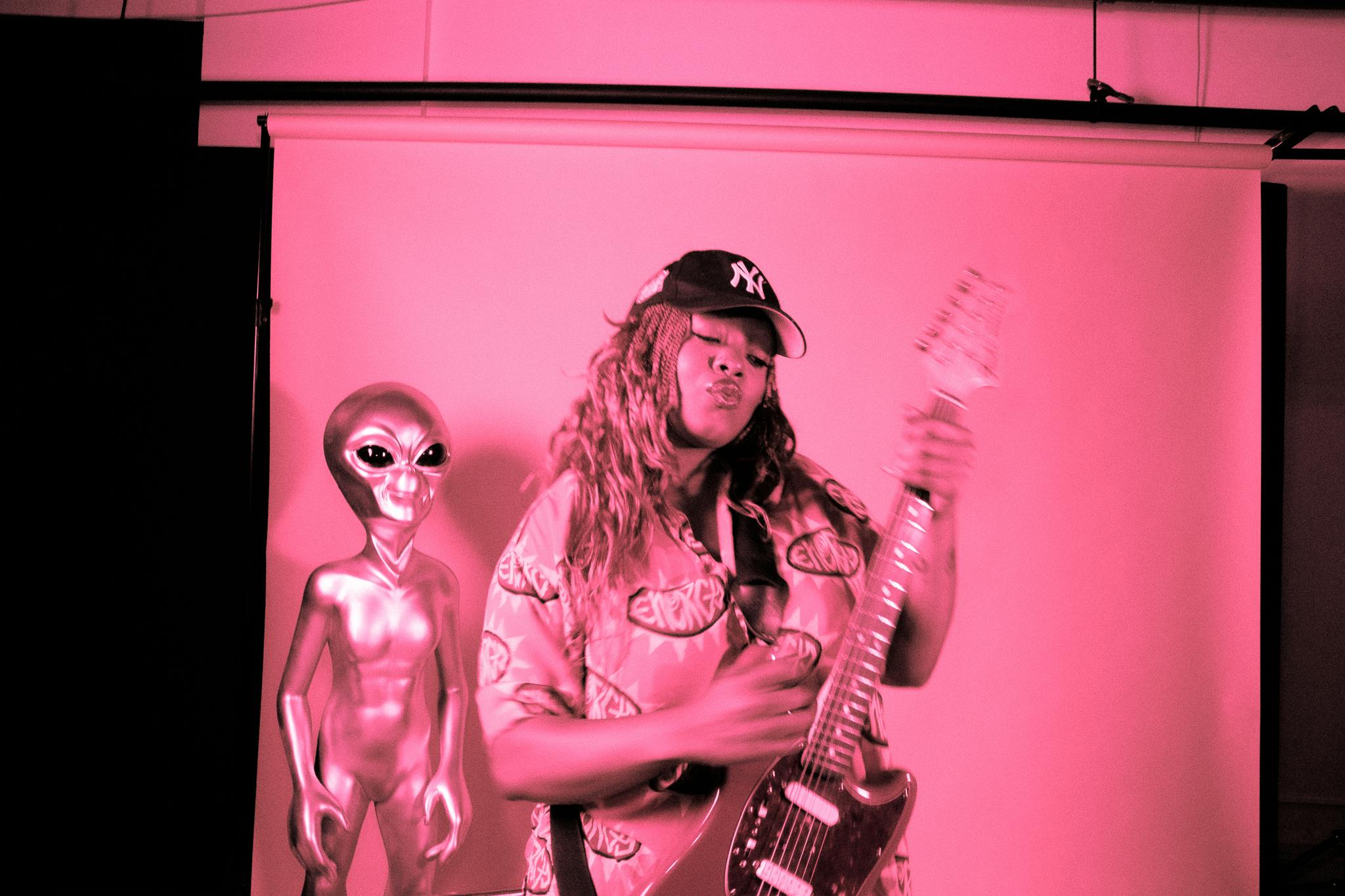 Interview ‣ ROCKY SNYDA
Orange You Glad You Know ROCKY SNYDA?
An interview with a rising Flatbush phenom.

There's no denying talent when it's right in front of you. So why wouldn't we stop to shine a light on ROCKY SNYDA, an emerging recording artist out of Flatbush, Brooklyn. With her signature orange outfits and hair, one might say you don't even need to shine a light on her. You'll see her coming, or better yet, you'll be hearing from her very soon.
In fact, SNYDA just released a brand new song, "WTFWTA," or "What the Fuck We Talkin' About." Her genre-ambiguous sound is what captivates listeners, as we pleasantly await any new music from her. In the meanwhile, SNYDA can be found showcasing new Pandora products, or you may find her alongside JayProb, a fellow artist on the rise in the "mean" streets of Brooklyn. We did say you'll "see" coming. The only way you'll miss her is if you either live under one of New York's many bridges, or if your eyes are glued to your phone waiting for her next release.
When it comes to fresh music acts in this city, we like to think we're at the front of the line. With an artist as ripe as ROCKY SNYDA (is that a reference to oranges?), it was only right to invite her over to talk about anything and everything. We discuss what got her into music, her time at SXSW, Kanye West, and so much more. Well, that's enough preamble; go n and see what the fuck we talked about!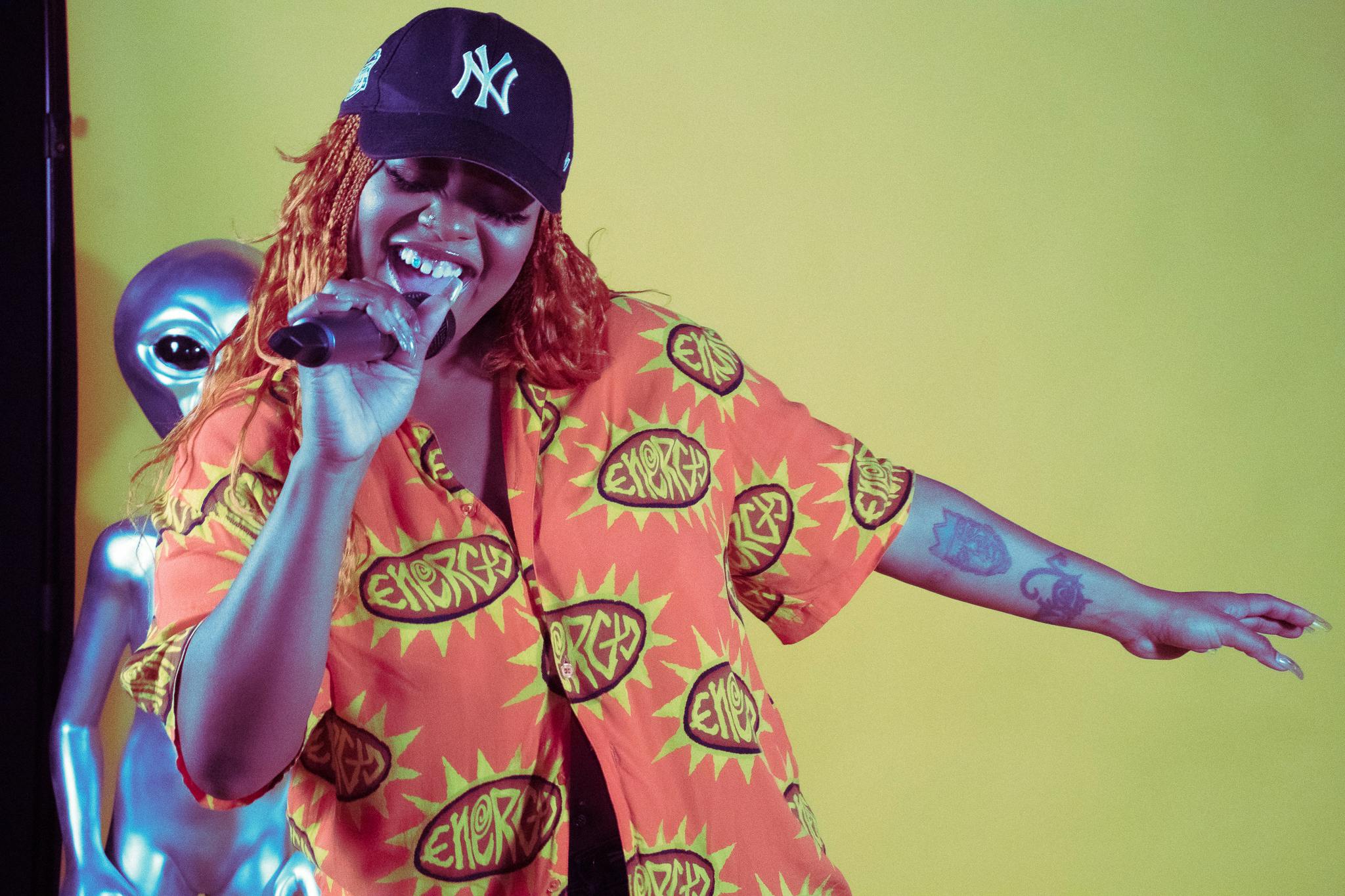 ROCKY SNYDA for Half Moon
Thank you for being with us. I want to go back to the beginning of your music career. When did you start making music?
Half Moon
I feel like when I started making music, I was in a time where I wasn't being creative at all. You know when you're in a relationship, you're not really focused on yourself, so you're not doing stuff for yourself. So I was just coming out of that.
I actually started off doing poetry, and then I was like, "Dang, this is not enough." I had to go back to my childhood days when I used to write raps – every rapper used to write raps when they were a child – I went back to that place, and I just started writing raps and performing at local open mics and hosting. A lot of people know me from when I used to host all the time.
ROCKY SNYDA
And this was all going on in Flatbush, Brooklyn?
No, actually, I grew up in Flatbush, but I lived in Queens for a very long time. I went to college in the city and then I moved to Queens. I've been there for quite a minute now.
What part of Queens is that? I remember I saw you over there one day.
Yeah, that was in Jamaica. I'm in Laurelton, Cambria Heights, where the suburb-y area is. It's a different world out there y'all.
You know, one of the first things I notice when I see you is the orange. Tell me about where you got the name "ROCKY SNYDA" from, and how did you come up with the orange theme?
I guess as a child I named myself ROCKY SNYDA; I grew up between Snyder and Tilden on East 52nd Street. So that's where it comes from, straight from the Flatbush. My name is Raquella George – there's my government. 
Everyone already called me "Rocky," just off rip. I used to actually hate being called Rocky, like, "Why is everybody calling me Rocky, just say my name!" But then I thought, "Maybe I can use this for an alter-ego, like a rap-thing. So I made it "ROCKY SNYDA," I put the "-ah" so it's a little more edgy.
The orange is actually funny: you know as a Black woman, you kind of experiment with your look all the time, and you can look like a whole bunch of different people. I feel like for a while, people would be like, "I kind of remember you," but it was never a full on, "Hey, that's you!" At some point – shoutout to JayProb – he was like, "You need a signature thing, that way people can remember you." I happened to try orange box braids one year, I think 2017 or 2018, and I got the most positive reception for having box braids that were orange. I was just like, "Hmm, I think this is the one," and then I did it again, and then people started recognizing me for having on orange.
Fast-forwarding to present-day you in 2022 as a recording artist; I watched an interview where you mention you're inspired by acts such as Biggie, Kanye West, and Kate Bush, acts that have been popular for decades. How does it feel to be a recording artist in this day-and-age, where the game has changed so much?
I feel like being a recording artist in this day-and-age when the game is crazy, good and bad. The pros are that you can pretty much do whatever the hell you want, and because of the internet, someone's gonna find you and someone's gonna like your music. I think that's really really cool about it. The cons are, the quality of music, the bar is kind of low. But that's another pro because if you're really good, you stand out even more. I think it's really interesting.
I feel like it's good for me, even though I do different eras of Hip-Hop, I can experiment as much as I want and no one's gonna be like, "Why are you doing that?" I feel like if this was the 90's, people would be like, "What the hell is that?"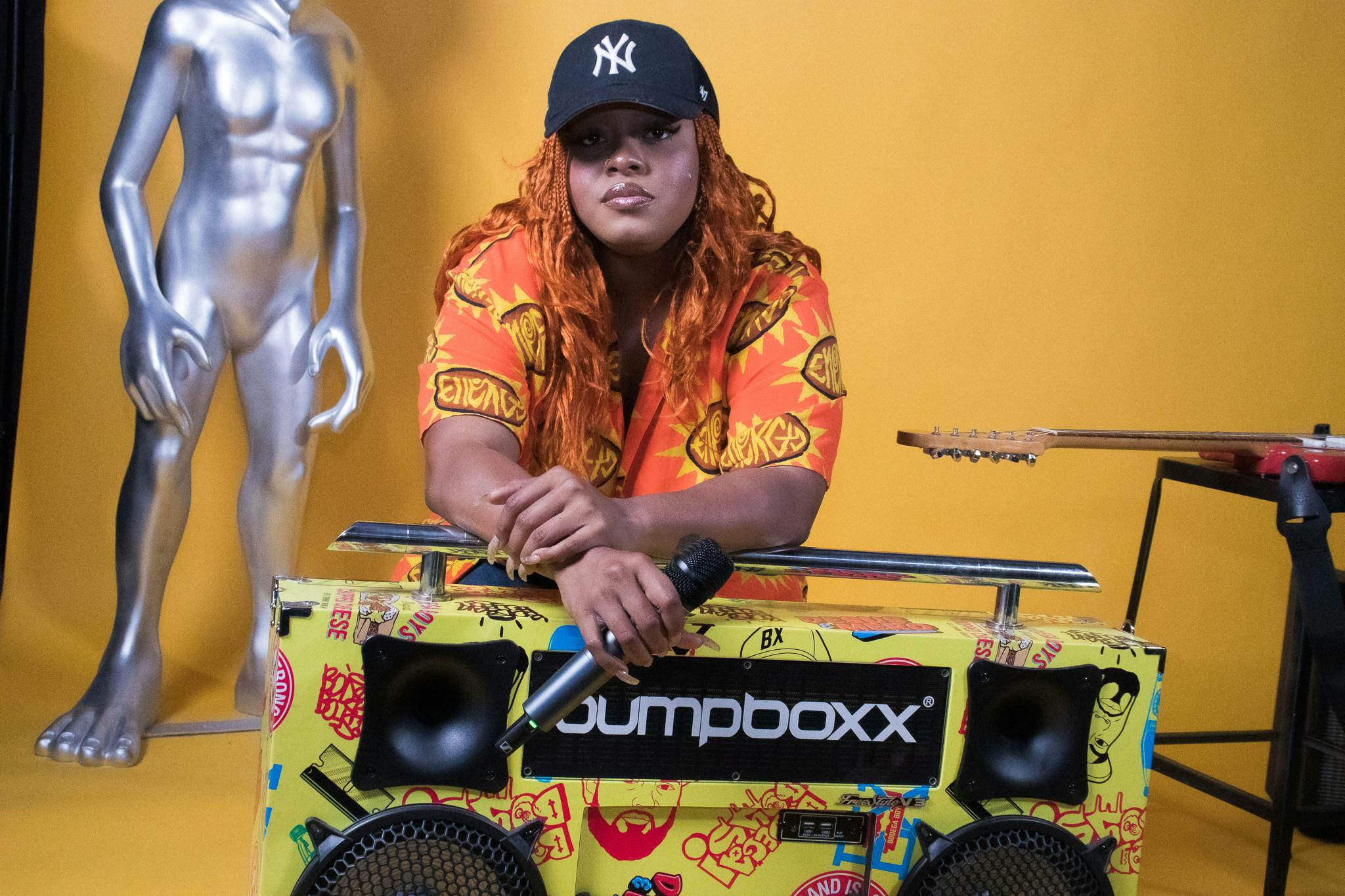 ROCKY SNYDA for Half Moon
I feel you. How exactly would you describe your music or your sound to someone who hasn't heard your music before?
How would I describe it? I don't know; it's like its own world, in New York. When we make – shoutout to FUTRxLGND – we're trying to give our version, our essence of New York. JayProb and I grew up kind of different. We both grew up in New York, but then we each moved to a different place and came back.
I went to High School in Douglasville, GA., and I was in a theater group. My version of New York is a little different from someone who grew up in Brooklyn and stayed there their entire lives. I feel like it's an eccentric, bright, loud, crazy, bubbly, female yet aggressive wonderland – 'Alice in Wonderland' but in New York. If New York was shot like 'Willy Wonka' or some shit like that, I feel like that would be a vibe. Get back to me on that question on another day when I'll have a detailed response.
You've mentioned JayProb a couple of times. I'm familiar with some of his work, and I know the two of you have been gracing show bills together for a while now. Tell me about your relationship with him, and how it blossomed into FUTRxLGND.
Shoutout to the internet, that's where we met. Shoutout to 2014. We just clicked instantly; he was starting to do his rap thing and his music. He actually inspired me to go out and be an artist. I always say this, but I knew as a child I would be rapping, and I would look up to certain pop-stars and rappers. I didn't know that, in-between, there were people working on being an artist, a rapper, a singer, to get to that next level of stardom. It just never crossed my mind because I was always in the theater world, so when I met [JayProb] it exposed me to that world. I thought, "Hmm, maybe I should take this seriously. I can write!"
We just clicked and we've been cool ever since. We've been FUTRxLGND for a minute now, but I think this year was the pinnacle year. We haven't had music together before, so this year it's like, "This is FUTRxLGND! Here we are. I am ROCKY SNYDA, this is JayProb, this is who we are. It feels like that turning point that led us up to here. He's my best friend, we're both Capricorns; we sort of bounce off each other, in terms of ideas. It's like finding that counterpart, who gets the journey, who's on the same exact journey, which is really cool.
That's so dope. Would you say you believe in alignment, similar vibrations, that sort of stuff?
I definitely do because there's just too many synchronicities in terms of who we are. We're both very different, but we have a lot of similarities, just even in our zodiac and things that we like. Even what we want as artists and how far we want to go; the universe definitely had some play in aligning FUTRxLGND. I definitely do, yes, if that answers your question.
Nice. So by now, we all know you make music. I used to hear, "You cannot be a writer if you don't read books." What genre of music do you listen to that maybe your fanbase doesn't know you partake in, or may be taking inspiration from?
Right now I feel like I listen to a lot of dance music; all types of dance, mainly simple hook-verse-and then just the hook throughout. A lot of production with a crazy beat. So right now it's a lot of dance, but I like trip-hop, indie pop. I listen to and feel like I draw a lot of inspiration from pop for all of my music. In terms of rhymes and Hip-Hop, moreso just things that are happening in my life, my friendships, my love life, that's where I draw from.
Shoutout to 'Release Radar' from Spotify, that's where I'm finding a lot of cool new sounds, and I'm like, "Oh, this is actually really cool." I think it's cool as an artist when you hear something, and you're inspired to make something else just because that sparked a thought like, "Oh snap, what if I did something like this, but in another way?"
That is pretty dope! Getting even more into your music, you have "CARMEN SANDIEGO" and "SUPERSONIC SUPER HEAUX" out already, the latter being a personal fave. I want to ask, before I move on, how would you describe someone that is a supersonic super heaux?
You brought that energy to SXSW this year. How was that experience for you, personally?
I feel like when I first did it, I had to keep that version of it because it was so in the moment. You know how some people have demos, I could not let go of that because it was from a real place of "WHAT ARE WE TALKING ABOUT? UGH!"
ROCKY SNYDA
You brought that energy to SXSW this year. How was that experience for you, personally?
It was our first year at SXSW; we were booked to do the Zoratopia and Gravity show, and it was really fun because that was one of our first bigger stages that was not in the city. Once you get treated a certain way by a company or a show, you're like, "Damn, I can never go backwards." Shoutout to Zora, shoutout to Latasha for believing in us, booking us for that show. It really just felt like this is where we need to be. This is what we need to be doing.
Like I said, it was our first time. I was so tired because we were going every single day. We were like, "We need to see and be everywhere, and just meet people." We were there for like 10 days. We performed that weekend, and then we partied, connected with people, hung out, saw the sights, and it was just really fun. I feel like I would definitely do SXSW again next year.
I'm sure you'll be there. So, either at SXSW or just in general, what's one of your favorite songs to perform?
That's a good question. I feel like no matter where I go, no matter how I do my set, if "How to Succeed [in Rap Without Really Trying]" is in the set, it kind of sets the tone. It's one of those songs where people are like, "Whoa, wait, what's going on? Okay, I'm locked in." I feel like that's my favorite song to do on any set. It's a great introduction to who I am.
That's what's up! I also saw you were at AfroPunk this year. Were you part of the festival, or just there as a casual observer?
[FUTRxLGND] got booked; I did production management for Yahzarah's set, JayProb did visuals for Yahzarah and Rodney Chrome. So we went to work but ended up having fun afterwards so it was pretty cool. Shoutout to AfroPunk for fucking with us, constantly.
There were so many amazing talents there; who was someone that wowed you?
I gotta shoutout Rodney Chrome. That was my first time really seeing him perform and he tore the stage down. His dancing, his outfit, his songs, everything about it was pure showmanship. He really took it there. I really enjoyed Yahzarah's set too, the vocals were out of this world. Rodney was like, full-on, "I'm an artist, watch me perform." You could tell he rehearsed, and he was not playing. He took it seriously, and I love watching artists like that. 
I liked Doechii's performance too, she's an incredible performer as well. And Tierra Whack, I love her and all her music.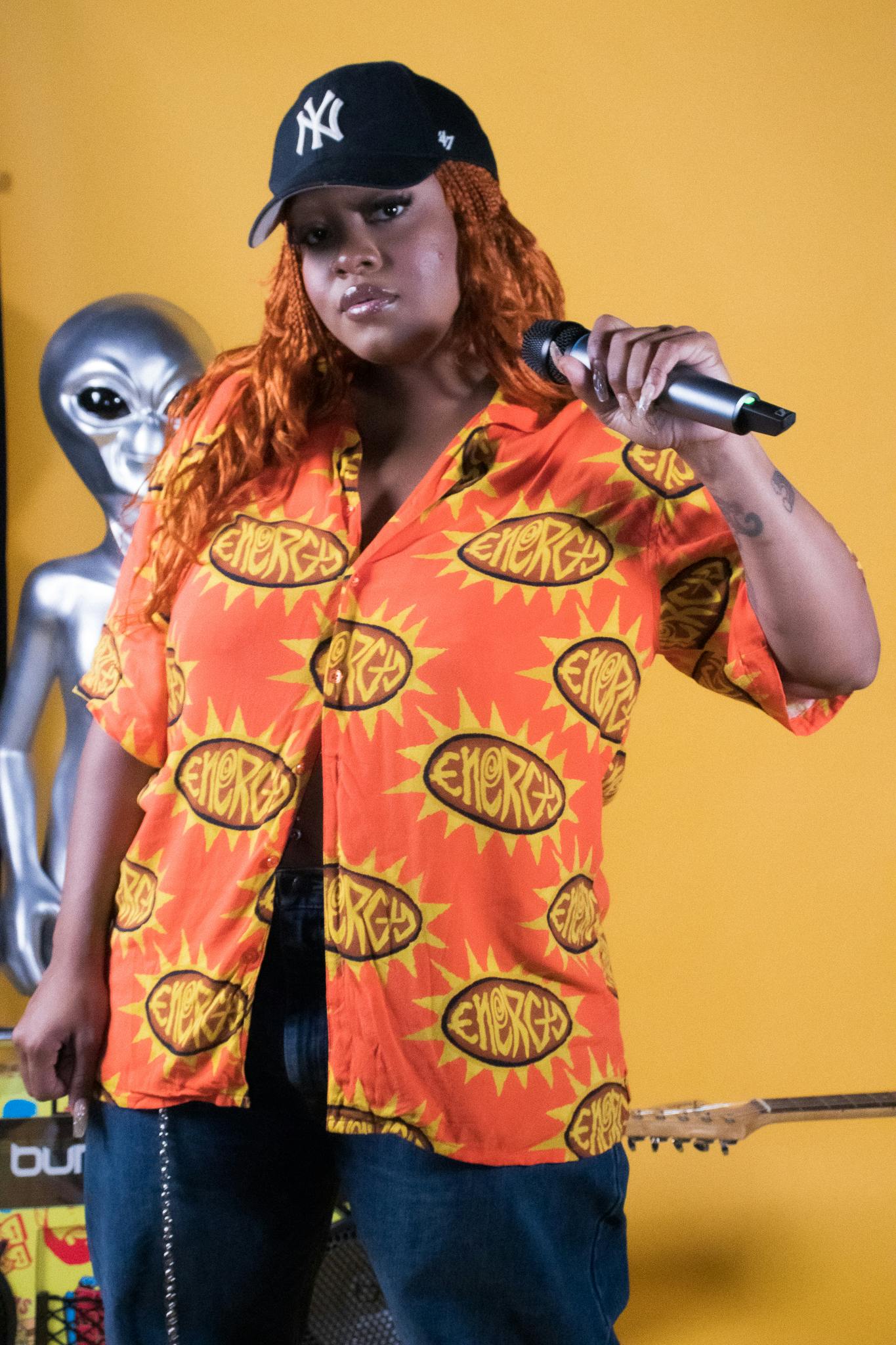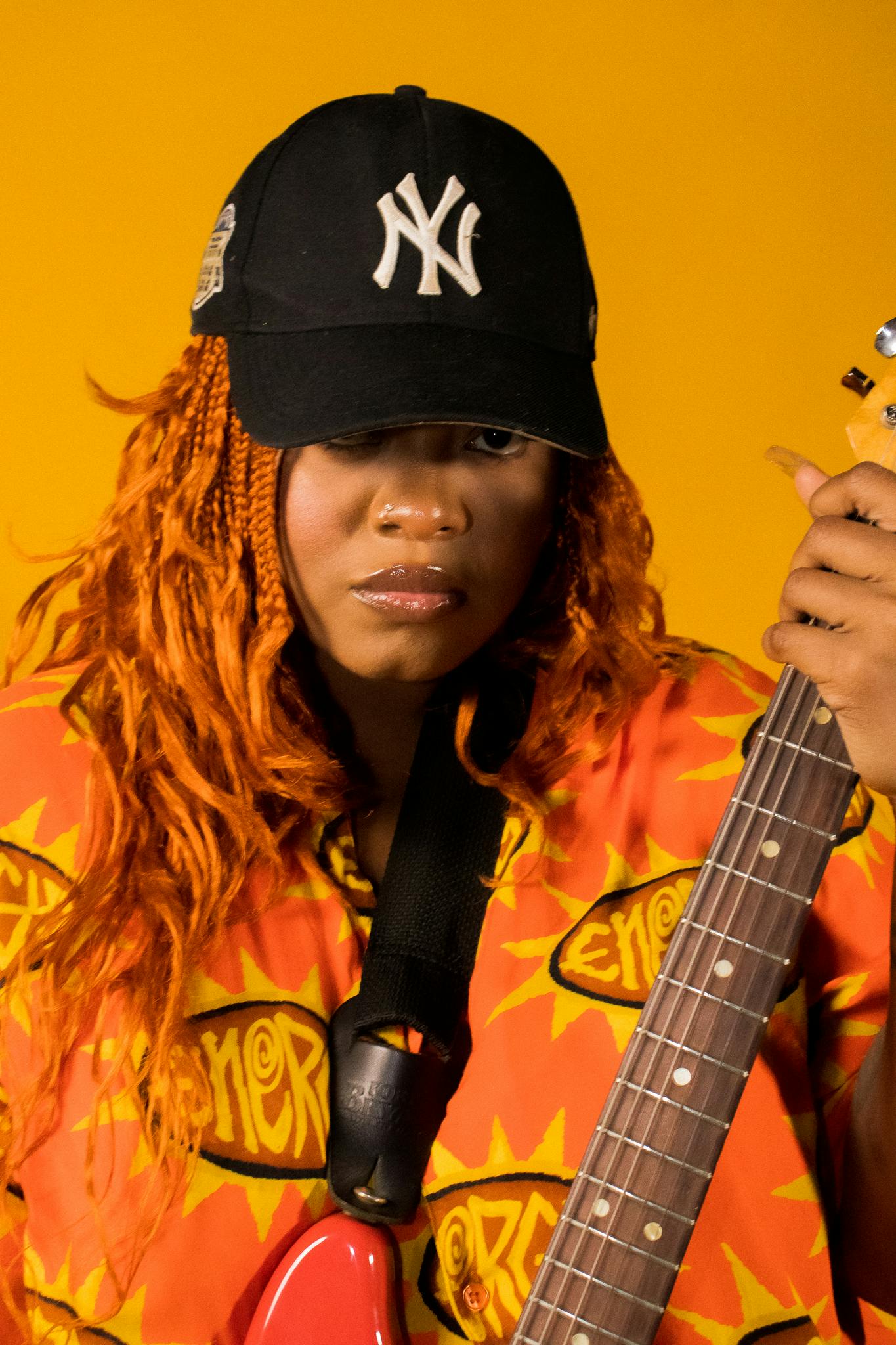 Once again switching back to your music, you have a new song out. Tell us all about it; name, inspiration, etc.
My new single dropped September 30th, which is actually the anniversary of 'TRYPOP', that's kind of funny and cute. The song is called "WTFWTA", or "What the Fuck We Talkin' About." The inspiration is any situation and you're just having the same conversation over and over and over again, and two or more people are not on the same page; we're not understanding each other so what are we really talking about, and why do we keep talking about this because obviously we're not gonna get it. It came from that place, and I just went and recorded it.
I feel like when I first did it, I had to keep that version of it because it was so in the moment. You know how some people have demos, I could not let go of that because it was from a real place of "WHAT ARE WE TALKING ABOUT? UGH!" I'm excited about that record. It's the second single off my upcoming EP, 'AUTOTUNES'.
Oooh, any other information we can hear about the upcoming EP?
Umm not really [laughs] I mean, we're working on more cinematic visuals for one of the songs. There'll probably be one more single, I don't know. You can play around with how you release things these days. It'll probably be one more single, then once I get it together, y'all will see the project, definitely in the fall. I had this done since the beginning of the year, maybe, just a lot of mishaps, my laptop died, so some of it had to be rerecorded. Everything happens at the right time, so I feel like this is the moment for it.
Oh yeah, the EP is called 'AUTOTUNES' because most of the record is pitch corrected in some way, whether it's heavy autotune, or just light, or just me playing around.
I can't wait to hear it. I see you're staying busy by featuring in the Pandora x Keith Haring collab. Is there any part of the experience you want to talk about, share with us?
So I do commercial demos a lot, or just commercials, meaning I record vocals for commercials, like music. This is my first major commercial where it's me in the flesh. I was scouted by someone on Instagram. I submitted my stuff, they picked me, and I was like, "Yes!" This was around February, so imagine, I've been waiting all year to announce that it happened. It was pretty cool, very professional. This was my first experience like this; I had my hair and nails and makeup being done at the same time which was kind of cool.
One of the visual people on the team told us a funny story about Kanye West when she met him in Mexico or somewhere. Just being around industry people who are talking about other industry people, it's chill, and it felt like this is going in the right direction. It launched on September 29th; go check it out, it's online and in stores, and it's a really cute collection too.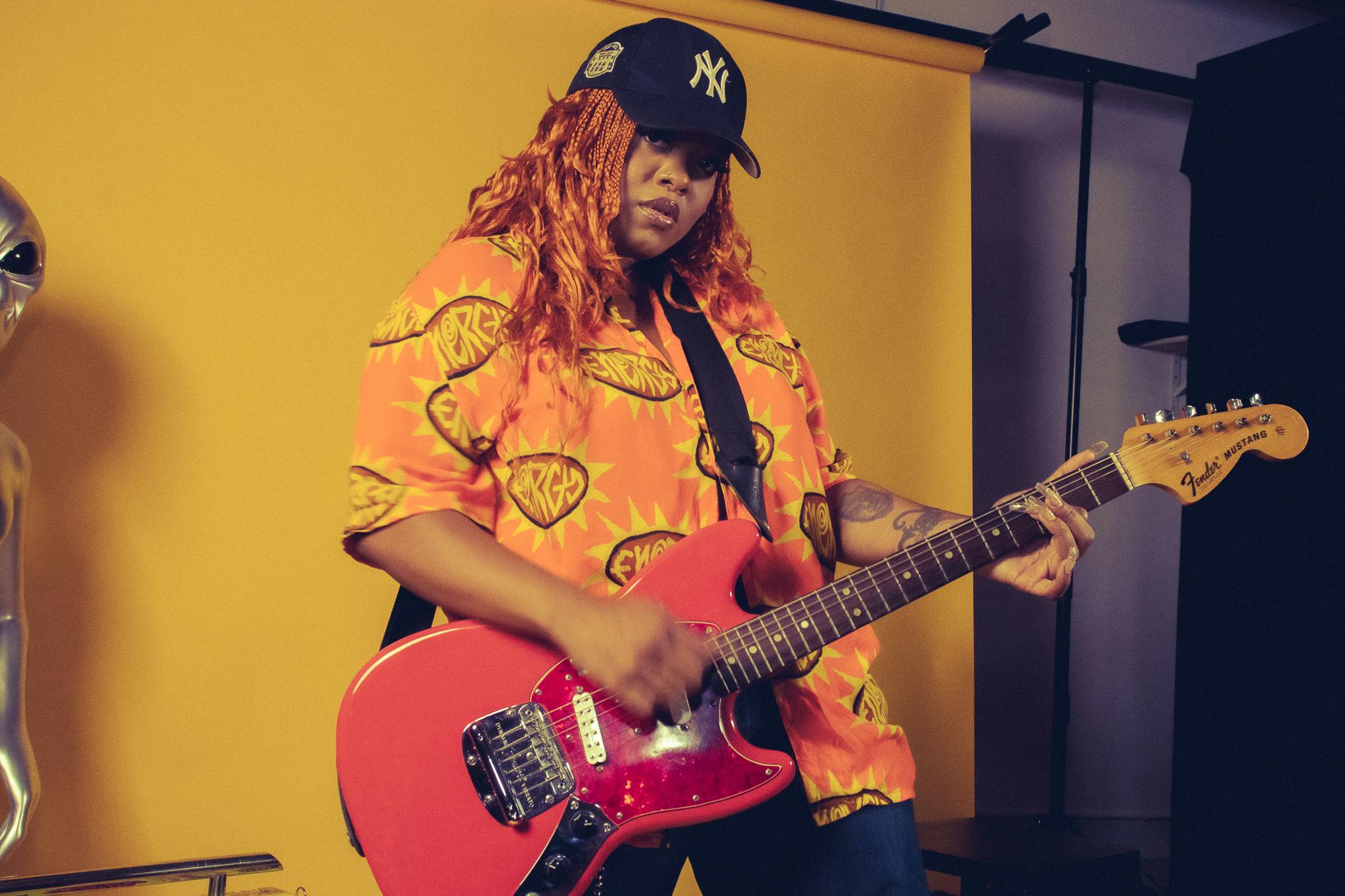 ROCKY SNYDA for Half Moon
What a year for you. You're performing at festivals, releasing music, and being a part of dope collabs. With all of this, I have to ask, how do you choose to unwind in your time off? There's so much stress that goes into becoming a superstar.
Sleep! People be like, "Oh, I'm not sleeping until ah ah." No. I feel like that's so silly. You're actually burning out, and you look tired and sick. Just go to sleep, take a rest. Whenever you can, just sleep, and drink water as much as you can.
I feel like sleeping, and not being on my phone so much, just unpacking my brain by watching TV. I'm a Capricorn, so I'm always thinking about how I can go to the next level all the time, even when we're resting. I have to fight myself and be like, "It's okay to rest for two days, nothing bad is gonna happen." It's really hard. Sleep, it's a big thing. If you can, get some rest.
Real quick, you brought up Kanye West before, and I know you mentioned him as an inspiration. What are your thoughts on his recent showings in the media, and how do these instances affect him being an inspiration for you, if at all?
I don't know if it affects anything, but it humanizes him. He is human at the end of the day, even though he is this incredible artist, almost genius, but I think it does humanize him. We all make mistakes, it's just that his mistakes are being broadcasted often. He's said some questionable things so far, but for me, nothing yet that has me like, "Eek." I know he's done some things politically that didn't help us in any way.
That's a real big topic; people talk about this all the time. Should we separate the art from the artist? I don't know, I'm on the fence. Sometimes it's okay, yeah. Sometimes it's like, "Nah, this is who you are regardless." I feel like it hasn't really affected me right now. It just makes me think that one day, my flaws may be on blast, so maybe take some notes from him to not do certain things.
I feel that. I honestly have nothing to say about Kanye West. Looking towards your future now, I know you have a background in theater. What is something outside of music that fans could expect from you?
I just started DJing this year, so DJing is kind of cool. You know how big artists come to the city and do DJ sets, I'm preparing for that, not for a whole DJ career. I'm probably gonna go back into acting, doing stage, and now I'm more interested in film. When I was going to school, I wasn't interested in film. I had a chance to go to LA and learn more film stuff, and I turned it down to do more theater in the city.
Probably more film, maybe something on Netflix or HBO, you know, shit like that. I want to do more commercial work, modeling, and print. I really like print.
Thank you again so much. Do you have any other comments or anything you'd like to get off your chest?
Shoutout to my mom, my dad, my sisters, and my family. Shoutout to the Caribbean, the West Indies. Shoutout to FUTRxLGND, JayProb, my friends. Make sure you listen to "WTFWTA" when it drops. Shoutout to Trevor who's about to play the guitar with me when we play this live. Shoutout to Half Moon, 368, this alien behind me. I'm actually ready for an alien invasion. I feel like Earth is getting a little boring.